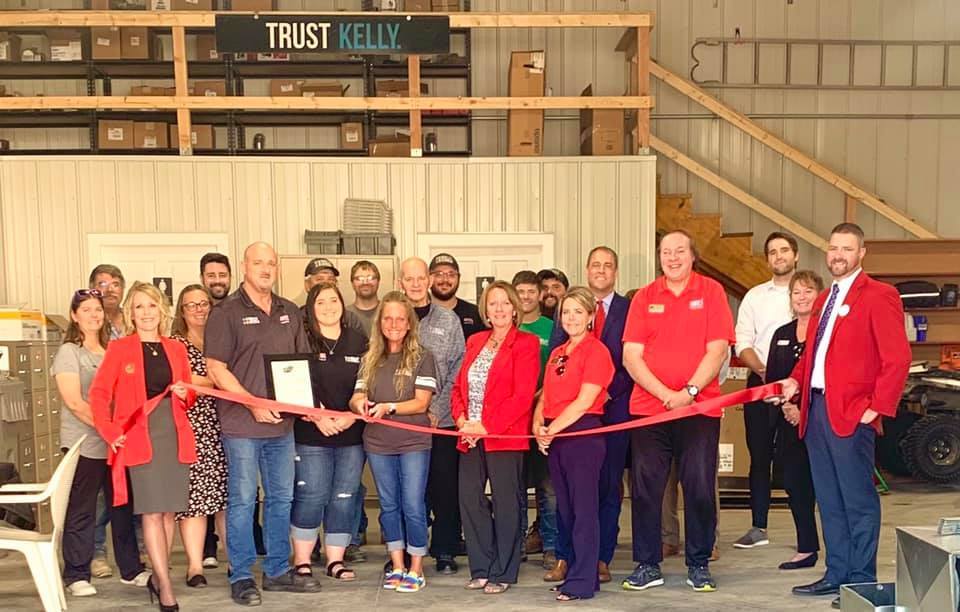 LONG AGO, WARREN KELLY HAD A DREAM OF OPENING A BUSINESS THAT WOULD SURVIVE WITH LONGEVITY IN THE CITY OF CLINTON.
There is a lot to know About Kelly Heating & Air Conditioning. Since that day, the better part of a century has passed and his dream is still going strong, and one reason why is because of his son, Tom. For nearly all 60 years of the business's existence, Tom has been the face of Kelly Heating and Oil Company Inc. Now, in keeping with tradition, he will slowly step back from his role as president and pass the torch on to his son, Mark.
"I'm not ready to retire," Tom said. "But I am starting to slow down and he's stepping up to take over the business when that time comes."
Though there is no definitive date when Tom's retirement will come, Mark says he is ready to make the move and become the third Kelly generation to take over the business. One thing that he knows will make that transition even easier is the years of experience the Kelly Oil staff possesses. With two employees who've been with the company for more than 30 years and others who have surpassed the 10-year mark, there is no shortage of expertise for Kelly Oil. Karen VanderVinne is one of those 30-year veterans. As the company's bookkeeper and secretary, VanderVinne may not have her hands in the physical work Kelly Oil conducts on a day-to-day basis, but without her knowledge in the back office, things wouldn't run as smoothly. But it's not just the company that benefits from all these years of VanderVinne's service. She too feels a kinship with the people she works for and works with.
"It's very family-oriented," VanderVinne said. "I think it's neat that Mark will be the third generation coming through. It says a lot about this company, especially nowadays that they're still successful in this community."
Fellow veteran Scott Bechtel joined VanderVinne at Kelly Oil when the business purchased the Bielema Oil Company in 1982. Though it wasn't a requirement from Bielema to transfer the employees when the purchase was made, Tom knew holding on to the experienced employees was something that would benefit his company.
NOW 30 YEARS LATER THAT DECISION IS STILL PAYING OFF.
As a furnace and air conditioner specialist, Bechtel worked his way up from driving a diesel fuel truck when he started to become the service manager for the entire company. To this day he still enjoys coming into work every day and he attributes much of that to Tom's attitude toward his employees.
"It's just a good atmosphere. We've always had employees who were willing to help each other out and Tom's still involved with that," Bechtel said. "And he's always really good about if something comes up with your family that he lets me handle it when I need to. Family is important to him. If something comes up during the day, I know I can go take care of it without getting in trouble."
That kind of environment is something Mark plans to continue when his time as the president arrives. Just like his father, he shares the sentiment that if you keep the employees happy, the workplace and productivity is that much more effective. According to Mark, there are not a lot of things he and his father don't have in common. He believes that is one reason they have been able to work so well together in the last several years.
"In the last couple of years he's been slowing down so I've had to step up so we've kind of been working side by side," Mark said. "I've heard of a lot of fathers and sons who do business together and don't succeed but we haven't had that problem. We respect each other and we know how to communicate and that's been a big thing for us."
Though he is ready to take over the family business, knowing the ins and outs of daily operation and actually doing every job within the Kelly Oil Company at some point in his career, he knows his father will have to make the ultimate decision. He said the staff sometimes jokes that they won't know when Tom is really ready to retire until he just doesn't come to work one day.
"I don't want him to stop coming in, but that's the only way he will actually stop," said Mark with a laugh. "When I think about it, I just kind of want to get thrown into it. I work better in adversity. Of course there's always that fear of failure but even when I do take over I can see myself calling him up for advice and he'll be there."
One other thing that has Mark feeling a little anxious for when his transition to the owner does happen is filling the shoes of his father. As a long-time business owner and an established face in the Clinton community, Tom is a major reason why Kelly Oil continues to see success after 60 years in business. But neither he nor Mark are concerned that when he does make that step into retirement, that the business will suffer because of it. Part of that is because of the confidence they both have in the staff at Kelly Oil.
"Most of our business is referrals," Mark said. "You're not going to have a successful business if you don't keep the customer happy and our service guys know that's how we do business. Often we get customers that will go out of their way to compliment our guys and that's what keeps our business going."